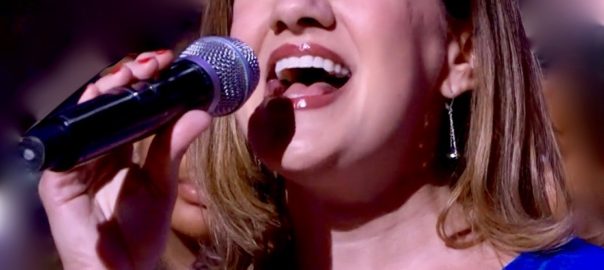 How God used anthems and amazon to get my attention…
I believe God has spoken to me both through the national anthem and an amazon purchase.
This is not a "click bait" headline, it is the truth.
First, the National Anthem:
In 2016 I contacted a few local sports teams to see if there was a need for someone to sing the National Anthem.
The response from the Pelicans was basically,
"Thanks but we've already got everyone we need this season, we'll let you know if something opens up…"

---
We both went on with our lives and forgot this conversation ever happened.
And then I got this text out of the clear blue in October 2017:
---
---
Just to refresh, this text exchange happened because a choir member's daughter's best friend's boyfriend's dad was looking for someone to sing the anthem.
And his contact person is the same person I emailed over a year ago. Amazing!
---
---
How's that for a convoluted chain of events and random coincidences? So much had to line up for me to even hear about the gig, much less actually get booked for it!
For me it became a lesson that when something is meant for me, God will find a way to get it to me.
No sweating it out, pushing/pulling/forcing it, just let it go and letting God take care of the details.
---
​Despite all that, lately I have been getting discouraged with my business. Things haven't been working out the way I planned. Products haven't been as well received as I imagined, there haven't been as many gigs as I anticipated, and several times I missed teaching lessons. It all adds up, and with the baby coming I was hoping to have a bit more cushion in the business bank account.
The last few weeks I've been complaining to God that I'm not where I want to be, not as motivated as I should be, haven't done enough, written enough, posted enough…you get the picture.​
Notice how many I's there were in those last paragraphs? Cue the Amazon example:
---
I get the mail yesterday and have two packages from Amazon.
The first was an item of clothing I had ordered.
The second was a piece of jewelry that I had definitely NOT ordered.
In fact, it's not even sold by the vendor on the envelope.
It was a necklace.
A basketball pendant with a cross inside.
And this scripture on the back:
Luke 1:37 "For with God nothing shall be impossible."
---
That stopped me in my tracks.
Was this a sign from God or had I accidentally gotten someone else's purchased item?
So I contacted Amazon customer service this morning, and this is a transcript of our online chat:
---
​​
So God sent me jewelry through a "fulfillment error" in the amazon shipping center.
Something to remind me of all the miraculous "coincidences" that happened in November.
And the many more miraculous happenings that are on the way.
Want more of these inspirational messages and music delivered to you? Input your best email address and never miss an update!