MUSIC
This universal language
Unites

congregations,

Energizes

crowds, &

Ignites

patriotism.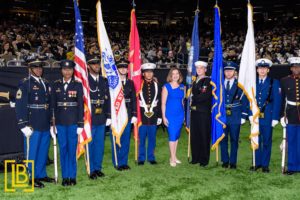 I've seen that as a lead vocalist with the Navy, an anthem singer for NBA and NFL games, and in over a decade of directing music in churches, theaters, and prisons.
It's a powerful tool, and when used correctly, music can bring healing to not only individuals, but entire communities.
After Hurricane Katrina devastated the gulf coast, Navy Band New Orleans traveled to the recovering communities and performed concerts.
As lead singer, entertainer, and narrator it took tremendous confidence to take center stage during that difficult time.
But it was worth all the exhausting effort when I saw the joy, relief, and hope on the faces of reunited neighbors in the crowd.
Music goes beyond military and patriotic tunes.
It goes beyond church and spiritual songs.
It reaches us at a soul level, where transformation occurs.
That's why I believe in the power of music.
Do you want to transform your next event through music?
Let's work together to make that happen!
Want transformational music delivered directly to you? Input your best email address and I'll send some your way!