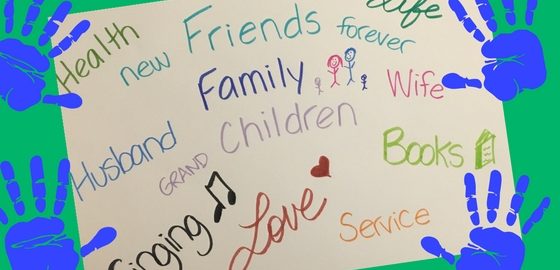 Words can really wind you up, making you feel awesome…
"That compliment made me feel like I can do anything!" ?
or awful.
"That email made me want to punch a hole in the wall!" ?
Most of the time when it's positive we hear it and soon forget it, but when it's negative we can stew on it for DAYS!
Last Friday I got an email that made me feel like an idiot and I spent three days moping and fretting.
On Monday we heard the baby's heartbeat. ❤️
It was an awesome experience that I'll remember forever, but I did not let that miraculous feeling consume me the way that stupid email did.
So it got me wondering, is there a way to harness the power of music to help us hold onto the good stuff longer? ♫
Time for an experiment.
I asked my friends on Facebook to share the things that they were most grateful for.
I've weaved it into a song, recorded below. 
My hope and prayer is that this will get our day off to a positive start.
What we focus on expands, so let's expand our blessings!
Debuting the song we wrote together!

Posted by AprilSingsalot on Friday, September 29, 2017
Want more of these inspirational messages and music delivered to you? Input your best email address and never miss an update!